International Surfboard Builders Hall Of Fame Inductee Details
Inductee Name


Tak Kawahara

Event Year


2017

Inductee Location




Inductee Contact



| | |
| --- | --- |
| Inductee Brand | |
Inductee Boardshop


CHP Surfboards, Japan

Boardshop Link



Inductee Bio
Tak Kawahara

THE ' 50s and ' 60s.
I grew up in Santa Monica and started Surfing in the late fifties and quickly decided surfboards and surfing was going to be my life style. I couldn't help it since Kathy "gadget" Kohner, Kemp Aabreg and Kent Sherwood, founder of Z-Flex, were my friends and classmates. So pursuing this goal, I began repairing surfboards at Con Surfboards during the surfboard transition period from balsa wood to Polyurethane foam blanks. Through the next several years, I learned the process of each stage of surfboard building under the tutelage of Con Colburn, Tom Flaherty, Dewey Weber, Greg Noll, Hap Jacobs and Tom Morey, the pioneers of the sport. I am gratified that I was able to work side by side with these pioneers and shaping legends such as Carl Ekstrom, Harold Iggy, Donald Takayama, George Bartell, Wayne Land and Bob Cooper, not to mention shaping boards for several of the top surfers.

Mid to late ' 60s.
I traveled to Japan to acquaint myself with the country of my ancestors. After talking with Bruce Brown and his trip to Japan, I wanted to see what the Japan coastline had to offer in the way of new beaches and waves. However, a couple of my other prime motives were to investigate business opportunities to manufacture surfboards for export into the U.S. plus trying to stoke the Japanese into getting in the water. Luckily, I found both good waves and a company, Yonezawa Plastics, willing to invest in a surfboard factory. However, teaching the required stages to create a surfboard turned out to be a daunting task and a long time commitment. Unfortunately, the landed price, because of the high shipping fees, did not create a sufficient enough margin to be competitive. All was not wasted because some years later and as good fortunes goes, we were able to put the factory to good use by manufacturing our own label surfboards, "Malibu" Surfboards and selling a few boards to a growing surfing interest in Japan. By the ' 70s, Surfing developed as the number one leading activity sport for the younger generation along with baseball and soccer. From there, the demand for new surfboards skyrocketed. Being in on the ground floor, I was able to meet several of the first Japanese surfers, such as Kazumi Nakamura, Takao Kawana, Mikio Kawai, Doji Isaka and Tsugumi Saga, who today are part of the pioneers of Japanese surfing.

THE ' 70s and ' 80s.
During this time, in addition to my business in Japan, I was involved in a joint agreement and established the wholesale arm of Town & Country surfboards, apparel and accessories. Our apparel brand debuted, together with Gotcha, Quiksilver and Billabong to mention a few brands, when surfing was still in the infancy stages of commercial marketing. Of course as time went on, Surfing grew into a major influence for the beach life style, activewear industry.

The ' 90s to present.
I founded and operated CHP Surf, a retail store in Redondo Beach for nine years which allotted me the experience on both sides of the counter. While operating retail, I continued the wholesale portion of my business of supplying companies in Japan. Surfing has given me the opportunity to travel extensively throughout Asia with Hong Kong, China, Japan and Europe. I am fluent in Japanese and currently trying to pick up Mandarin.

Personal:
I am married, my wife Kimie, with four, young adult children, Tyler, Tallie, Keoni and Kanani, all of whom I am very proud of and happy to say, they are enjoying highly successful lives. I do not surf as much these days but always have the desire to get in the ocean. My hobbies are spending time with my kids, designing surfboards and most things connected to surfing and the ocean.


For the complete biography, go to: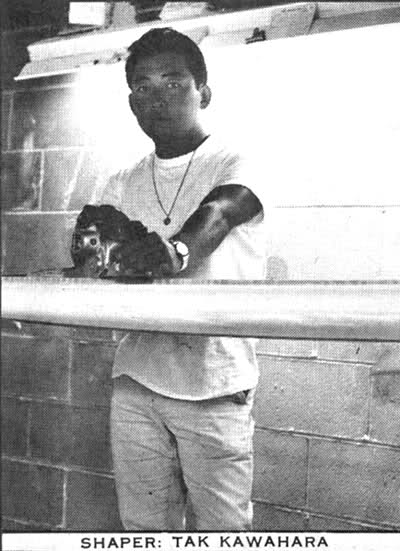 Thanks to:

http://www.swaylocks.com/users/sammya

for the photo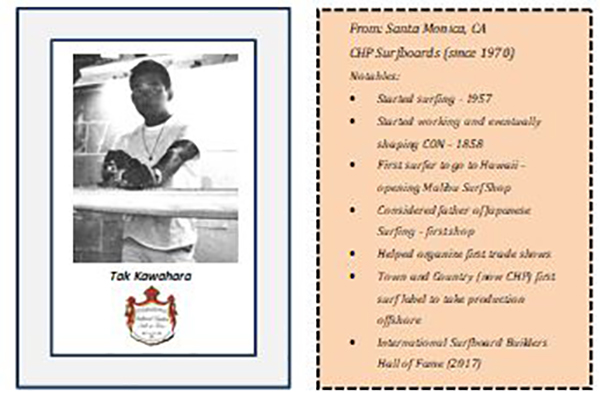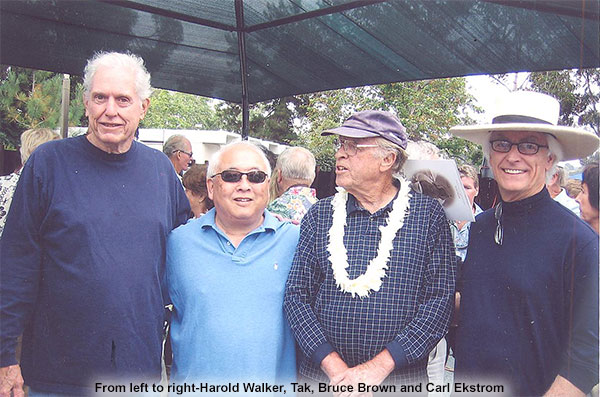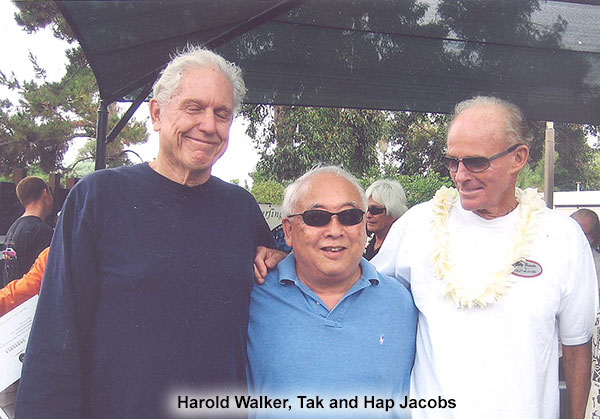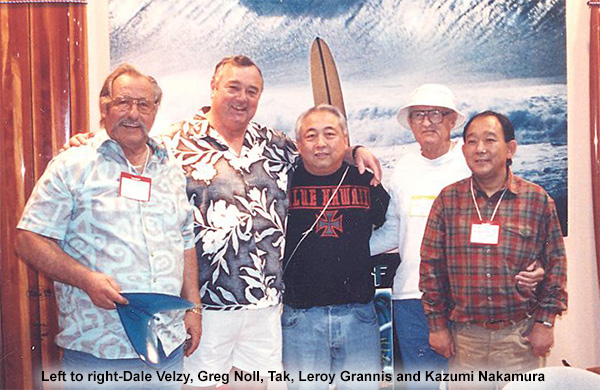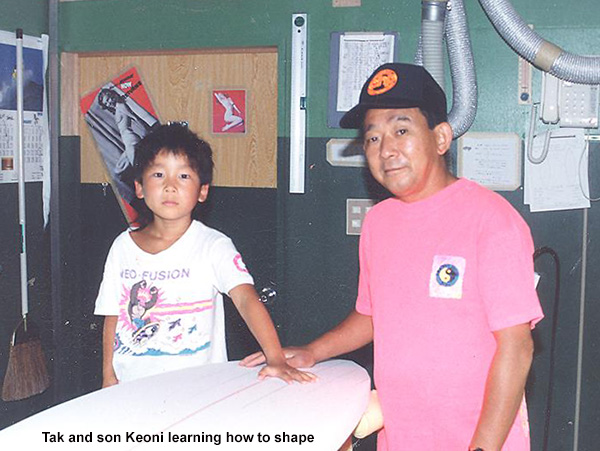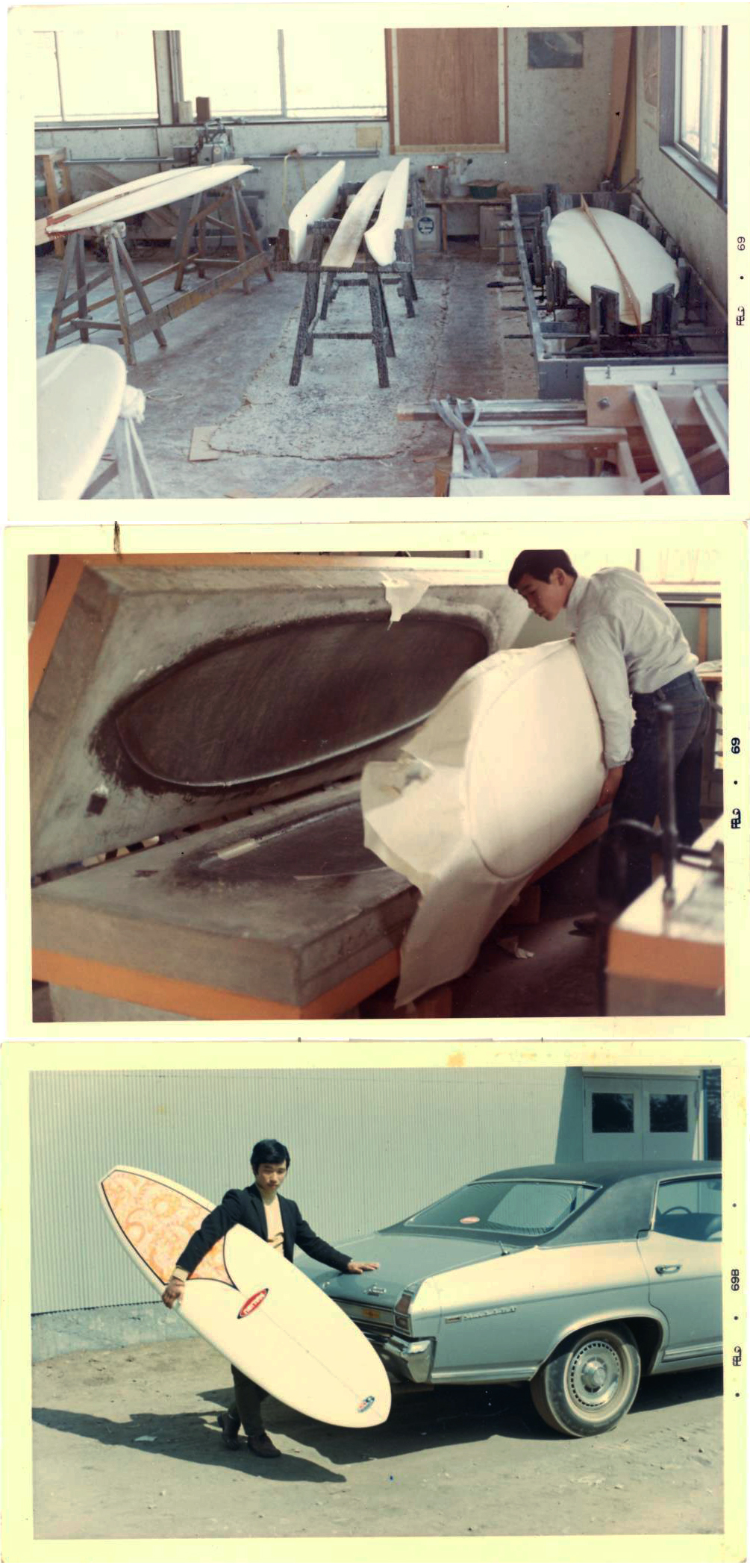 Links
Tak Kawahara father of surfing in Japan and legendary surfboard shaper