International Surfboard Builders Hall Of Fame Inductee Details
Inductee Name


Richard Wilken

Event Year


2017

Inductee Location


16777 Edgar StreetPacific Palisades, CA 99272-3226

Inductee Contact


Office 310-454-4809Cell 310-629-2597richwilken@mac.com
| | |
| --- | --- |
| Inductee Brand | |
| | |
| --- | --- |
| Inductee Boardshop | Boardshop Link |
Inductee Bio
I grew up in Pacific Palisades, California, where my father was a pastry chef and my mother ran a coffee shop. I was born in 1946 in Santa Monica - only because the Palisades didn"t have a hospital.

My family usually went to the beach just south of the Bel Air Bay Club in Pacific Palisades where big wave rider Pat Curren was the summer lifeguard, about a quarter mile south of the end of Sunset Blvd. and PCH, and also at the Sand and Sea Club (the former Marion Davies beach mansion) in Santa Monica.

I first got interested in surfing while attending Paul Revere Jr. High, when my friend Mike Hastings, whose father owned Hasting Plastics in Santa Monica, would sell the first published issues of Surfer magazine out of his school locker to his fellow students. Hasting Plastics was the local supplier of resins and fiberglass in the North Bay area for anyone making surfboard, so Mike"s family had a tie in with Surfer Magazine before there were many surf shops in the area.

My first surfing attempts in about 1957 were on a hollow finless plywood paddle board that my older brother John made in his Jr. High wood shop. Needless to say, trying to learn to surf on a directionless paddle board had its drawbacks, and I soon lost interest trying after a few splinter filled go outs. Brother John next brought home an old beat-up fiberglass and balsa board that at least had a fin (and a giant V-shaped nose ding) that provided some what better results. This gave me my first experience of learning how to patch dings with fiberglass and resin, in an attempt to keep the relic from sucking up too much saltwater during each go out.

In 1961 I bought my first surfboard about the time I started high school at Pali High, the first year it opened. It was a butt-ugly brown, yellow and red streaked well-used 9' - 6" Dave Sweet from Dave"s shop at 14th St. and Olympic Blvd. in Santa Monica. The fin was set so close to the tail that it was a bitch to turn, but at least it was not made in a junior high wood shop. I still remember the smell of melting paraffin wax in an old coffee can on my Mom"s stove so I could hot-wax a base coat on the deck of the ugly-ass Sweet. Yes it was ugly, but it was my first board, -- keeping this stick floating for another year or so gave me more practice at patching dings.


For the complete biography, go to:
Richard Wilken Autobiography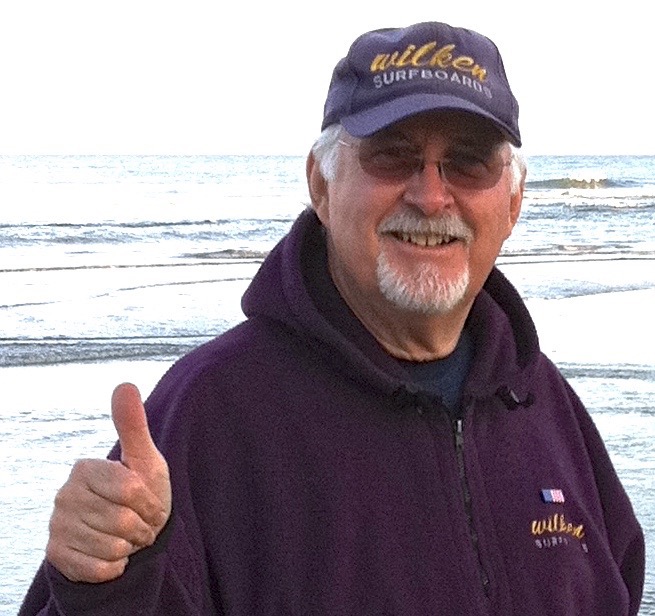 Thanks to:

Richard Wilken

for the photo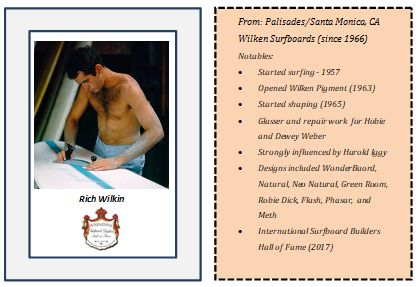 Links
Richard B. Wilken AIA - Profile - InterfaithForumonReligionArtArchitecture