International Surfboard Builders Hall Of Fame Inductee Details
Inductee Name


Mike Doyle

Event Year


2009

Inductee Location




Inductee Contact



| | |
| --- | --- |
| Inductee Brand | |
Inductee Bio
Hawk-nosed regularfooter from Leucadia, California; runner-up in the 1964 World Championships; a top paddleboard racer, tandem rider, and big-wave rider, and arguably the 1960s' best all-around surfer. "Everybody wanted to be like Mike Doyle," 1966 East Coast champion Gary Propper said. "He had style. Everyone wanted to surf like him, look like him, dress like him."

Doyle was born (1941) in Los Angeles, raised in the southwest Los Angeles suburbs of Inglewood and Westchester, and began surfing at age 13 at the Manhattan Beach Pier. He rode as a goofyfooter for nearly three years, then relearned as a regularfooter in 1956, once he began riding Malibu. Two years later he was good enough to work as a surfing stunt double on Gidget, the 1959 film that helped spark a national surf craze. (Doyle had sold Kathy Kohner, the real-life Gidget, her first surfboard in 1956.).
For the complete biography, go to:
http://encyclopediaofsurfing.com/entries/doyle-mike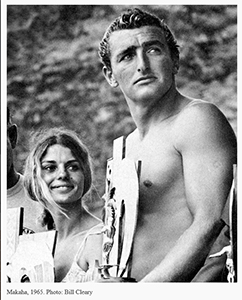 Thanks to:

http://encyclopediaofsurfing.com/entries/doyle-mike

for the photo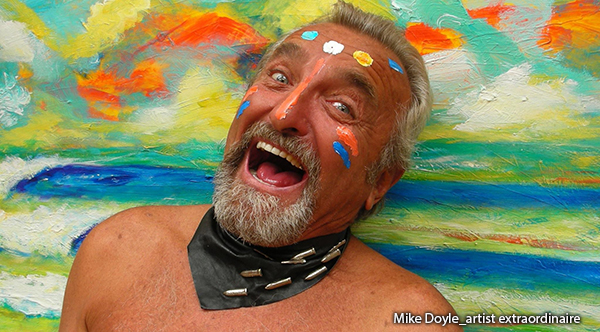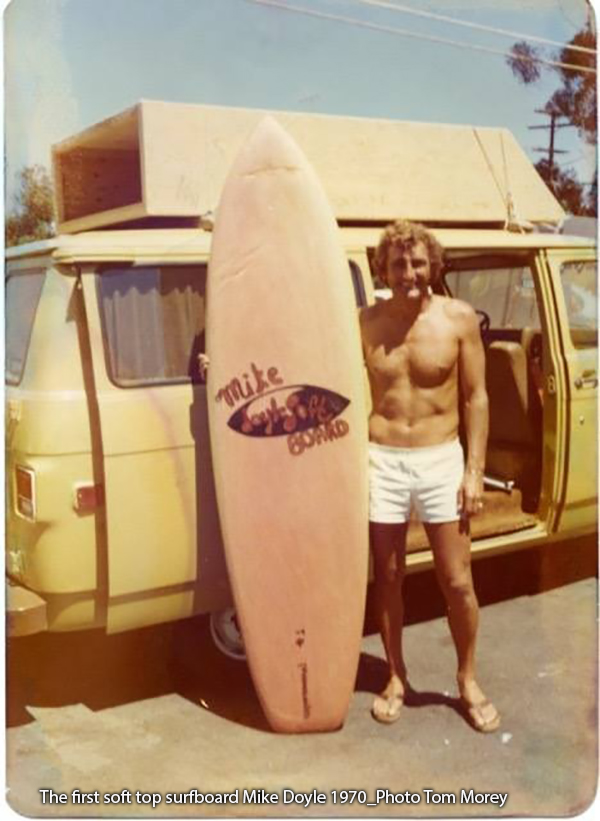 Mike's Autobiography
High school 58 hogging balsa wood for Velzey and Jacobs in the Venice shop, also shaping a Doyle and Mejek label, making balsa wood boards in my garage and shaping about 10 Dave Sweet foam boards a week. Then in 62 teamed up with Hansen and made the Doyle model. I designed the Doyle Model and the 50/50 by Hansen his biggest seller. That went on till about 1960 and by then the first surfboard wax, Waxmate by Surf Research arrived. My company became big enough to leave Hansen and move forward in my own business. And then I came up and shaped the first soft-board at Moreys, the Doyle/Morey soft surfboard. One more shaping stint in 1975, Shaping Sailboards for the company called UP Sports. Total boards shaped around 4,000. Now I only shape prototypes that go to China for the Mike Doyle Soft boards, Hard Boards and the Doyle Sups.
Mike.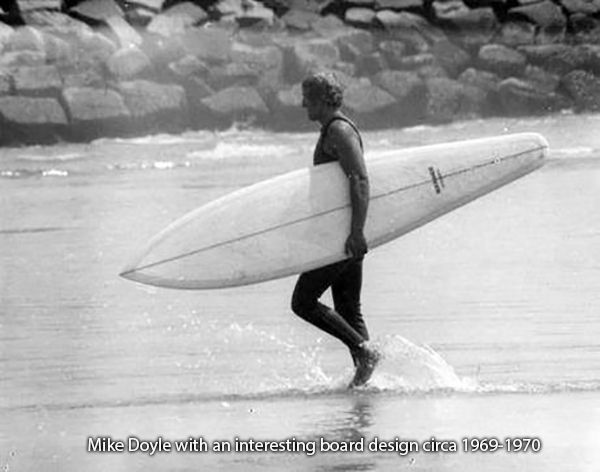 Links
Mike Doyle Champion Surfer & Paddler of the 1960s
Mike Doyle among greatest of all time